The Company
About Us
We are Craftspeople. Designers and Makers. A pioneering, family-founded British business, proudly dedicated to the design and manufacturing of high-end, contemporary furniture for design-conscious contract clients around the world.
From our Hampshire studios to our factory floors, we are bound together through creativity, care and the ambition to elevate commercial spaces through timeless furniture design. Our collaborative spirit guides us in producing pieces that stand the test of time.
Manufacturing Process
Made in the UK
Play
Our Mission
To combine craftsmanship, design and industrial innovation, creating contemporary furniture with a timeless appeal. It is our mission to bring elegance, originality and creativity to commercial interiors and to revolutionise sustainability within the British manufacturing landscape.
Design Process
Collaboration is the fabric of our business. It's woven into all our relationships and inspires how we work. We are guided by a design intent to continuously create collections with a contemporary feel and a timeless appeal. Our mission is to be at the forefront of our industry, leading with creativity, craftsmanship and care. Our furniture is designed by our Co-Founder and Creative Director Katerina Zachariades, Morgan Studio and in collaboration with innovative designers.
"Collaborative design supports us in producing furniture that stands the test of time, beautiful in both its aesthetics and its integrity."
Lean Manufacturing
We believe every piece we craft should sit in harmony with the interior world it was designed for, and the natural world, which created it. Our teams are a collective of inspired, detail-lead, design-loving problem solvers, who work together to ensure all our operations are efficient, delivered to a top standard within an optimal lead time frame, without ever sacrificing on quality or environmental responsibilities.
Our timber is sourced from sustainable European estates, controlled with felling licences and awarded either PEFC/FSC certifications or EUTR compliances. Our wood is air dried and kilned at optimal conditions to produce the best timber for high-end furniture making.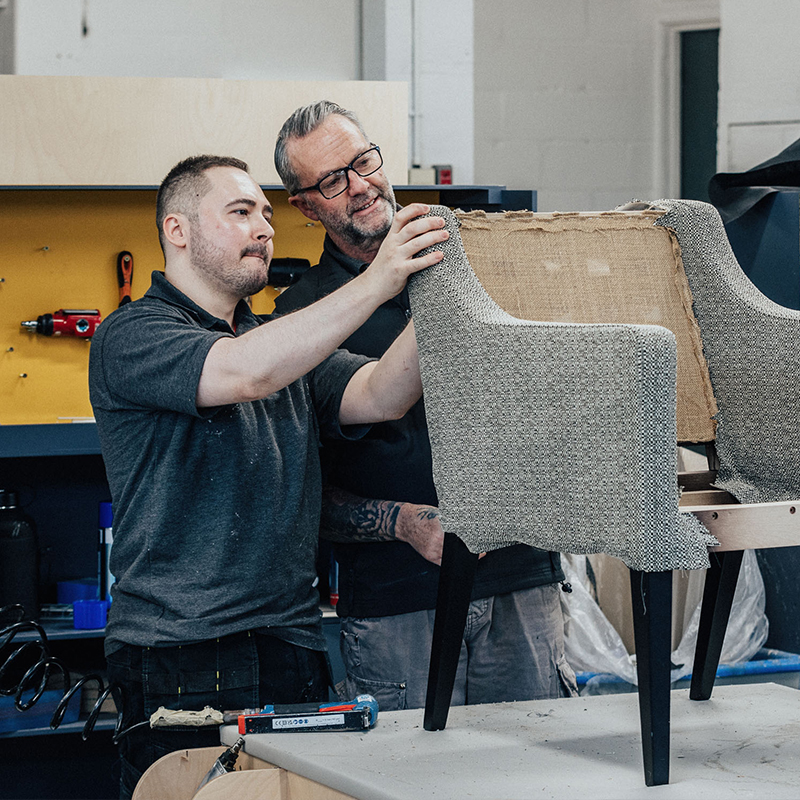 Sustainability
Since the birth of our business 30 years ago, sustainability has always been deeply rooted in the way we work. Decades of expertise allow innovative adoption of new technologies, further strengthening our process, as we continuously establish practices that aim to keep material and resource uses to the lowest necessary levels.
By continually striving to reduce our raw material consumption, water and energy, harmful VOCs and landfill waste disposal, our mission is to go beyond environmental regulation compliances. Instead, we are actively committed to preventing any negative impact on the environment, leading the way for a more positive, sustainable British manufacturing landscape.
We utilise our own timber and sawdust waste to heat our factory, offer reupholstery services to increase the longevity of our seating, use recyclable packaging and blankets to wrap our furniture and pass on fabric remnants to charities in need. With every piece being made to order, we are able to ensure a respectful approach to our use of resources, utilising only what is necessary to fulfil our customers' needs.
Along with our internal Environmental Management system, which encourages every member of our team – from management to factory floor – to take responsibility for the impact of their work on our ecosystems, our  ISO14001, accreditation ensures we continuously maintain our dedication to ethical working practices that reduce harm to our environment. These efforts have also environmentally helped us achieve the highest 'A' level rating on our Energy Performance Certificate (EPC).
"From the smallest details to the biggest decisions, it has always been our goal to design furniture with the lowest environmental impact throughout its life cycle."
Our Awards
We are the first company to be certified by the British Furniture Manufacturers Association in the Furniture Industry Sustainability Programme and have won The Environment Best Practice Award for our manufacturing processes at the Decision Business Magazine awards. Over the last 14 years, Morgan has also received the Design Guild Mark award for eleven collections: Kaya, Rakino, Miami, City, Lima, Manhattan, Pimlico, Brompton, Kyoto, Rio and Valencia.
Winning Products
Bilbao Lounge Chair
Design by Tim Rundle
2023 - Design Guild Mark
Kaya Collection
Design by Morgan Studio
2022 - Design Guild Mark
Rakino Collection
Design by Tim Rundle
2021 - Design Guild Mark
Rakino Lounge Chair
Design by Tim Rundle
2019 - Product Of The Year FX Awards
Valencia Collection
Design by Morgan Studio
2017 - Design Guild Mark
Rio Tables
Design by Morgan Studio & studio INTEGRATE
2017 - Design Guild Mark
Kyoto Collection
Design by Morgan Studio
2016 - Design Guild Mark
Brompton Collection
Design by Katerina Zachariades
2014 - Design Guild Mark
Pimlico Collection
Design by Morgan Studio
2014 - Design Guild Mark
Boston 1620CR
Design by Morgan Studio
2012 - Product of the Year Mixology North
Manhattan Collection
Design by Katerina Zachariades
2012 - Design Guild Mark
City Lounge Chair
Design by Morgan Studio
2010 - Design Guild Mark
Miami Collection
Design by Katerina Zachariades
2010 - Design Guild Mark
Professional Bodies